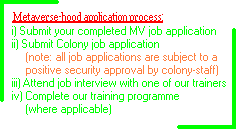 Job application__
Step 1 of 3: Select your preferred job
Step 2 of 3: Review recruiting standards
Step 3 of 3: Fill out on-line application form

Be a Metaverse Block Deputy

In Metaverse Block Deputies are considered the key to happy residents and a happy neighborhood, just like Block Leaders. Actually, we consider each BD as a potential Block Leader, not only because a BD must be able to run a block by her/himself should the BL be absent but also because BDing a block is a perfect way of on-the-job training and for learning how to run a community.

If you have any questions concerning these standards, don't hesitate to contact our MV recruiting staff.

Prerequisites:
Experience of 125 points is needed
Willing to work with a block leader
Must be reliable and polite to residents
Willing to train in the Metaverse standards
Become one of the most sought after people in Cybertown.